Soar to New Heights on an Eagle Watching Tour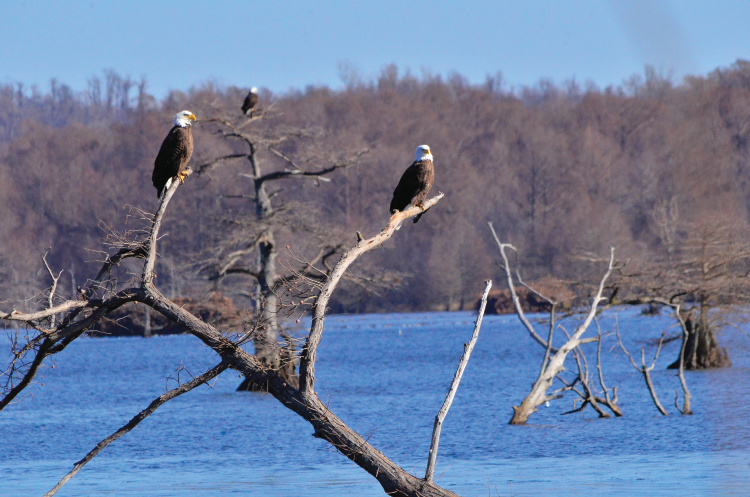 Forty years ago, spotting a bald eagle in the wild in Tennessee was a rare occurrence. Habitat destruction, illegal hunting and contamination of its food source had nearly caused the bald eagle – a symbol of power and strength – to become extinct.
Thanks to conservation efforts, the raptors were removed from the federal list of threatened and endangered species in 2007. Today, the majestic birds of prey can be spotted at several places across the state.
"If you go back 30 years, the continental U.S. had almost no eagles," says David Haggard, a ranger at Reelfoot Lake State Park in West Tennessee. "But they've made an unbelievable comeback – the numbers have really rebounded."
Reelfoot Lake Eagle Tours
Haggard leads eagle tours by bus at Reelfoot Lake State Park in January and February when the birds flock to Tennessee and other southern states to escape the frigid winters up north. Reelfoot Lake is your best bet to see eagles in Tennessee, as it's home to one of the largest populations of bald eagles outside Alaska. Haggard counted more than 30 eagle nests at Reelfoot in 2015 and estimates there were an additional 150 to 200 migratory eagles around the lake.
"On our two-hour eagle tours, visitors can see two or three eagles all the way up to more than 100," he says. "Most days we see between 30 and 50, but more than 100 is possible. The weather is the No. 1 factor."
The eagles come to Reelfoot Lake because of its abundant food supply. They primarily eat fish, but they also hunt ducks and geese, which are prevalent at Reelfoot Lake because of its proximity to the Mississippi Flyway.
Eagle tours at Reelfoot occur seven days a week at 10 a.m., with an additional afternoon tour on weekends. The cost is $5 per person. Visitors are encouraged to explore the Reelfoot Lake State Park Visitor Center, which has interpretive exhibits and displays.
Haggard has been leading eagle tours for 30 years and says he never gets tired of watching eagles soar and swoop down to catch a fish.
"That 'wow' moment people get when they see the eagles interact with each other is something I enjoy seeing," he says. "Binoculars are important to bring because we look at them from about a football field away. We respect their distance, especially around a nest. Most times if you give them distance, they don't fly away. You can look at them, and they will look back at you."
Dale Hollow Lake Eagle Watch Tours
In recent years, Dale Hollow Lake has become another prime eagle watching spot in Tennessee. The U.S. Army Corps of Engineers staff at Dale Hollow hosts Eagle Watch Tours on the third and fourth Saturdays of January every year to help visitors see and learn about our national bird.
"Dale Hollow is second behind Reelfoot Lake in the wintering season for bald eagles," says Brad Potts, a ranger for the Army Corps of Engineers at Dale Hollow. "We count between 50 and 60 eagles here every winter. Many come from the Great Lakes where everything freezes in winter. They come here to hunt – our water is clear, so it's easy for them to see fish."
Unlike the Reelfoot eagle tour, Dale Hollow's eagle tours take watchers out on the water by barge. It leaves from the Lillydale Recreation Area and travels across the lake to the Dale Hollow boat ramp. The Friends of Dale Hollow Lake, a nonprofit association, even provides hot coffee, sausage biscuits and doughnuts for guests on the tour.
"If it's a cloudy, snowy day, you will see more eagles. When it's sunny, we typically don't see as many, but I've never been on a tour where we didn't at least see some," Potts says. "Last year, an eagle killed a duck and dropped it along the banks, and we were able to pull up close to it and watch it from just 75 yards away. It was not about to leave that duck."
Reservations for Eagle Watch Tours at Dale Hollow open Nov. 15, and the tours usually fill up by the first week of December. They keep a waiting list, so they can add people to the tours in case of any cancellations. Life jackets are provided for everyone, along with a limited supply of binoculars. The tours are free of charge.
"I really enjoy showing people all that Dale Hollow has to offer," Potts says. "Many people don't even realize that bald eagles nest here. To see them in awe of the eagles and having that experience for the first time is a lot of fun."
Eagles can also be spotted in Tennessee along the Cumberland River and at Center Hill, Kentucky, Chickamauga, Watts Bar and Pickwick lakes.
Be Eagle Wise
Planning to go on an eagle watching tour? Brad Potts offers these tips to make the most of your experience:
If possible, go eagle watching on a cloudy, overcast day.
Dress warmly, so you will be comfortable in the cold weather.
Bring your own binoculars or a spotting scope if you have one. A blanket and camera are also recommended.
Familiarize yourself with what an immature eagle looks like. The mature eagles have bald, or white, heads. Immature eagles are brown and harder to spot.
Look for ducks. Eagles hunt ducks as well as fish, so if you see a group of ducks, there are likely eagles watching them from the trees above.