Tennessee Sorghum Makes the World a Sweeter Place
It isn't Tennessee's biggest cash crop, but when it comes to taste, nothing's sweeter than old-fashioned sorghum.
Don't mistake the tall, broad-leaf plant with corn, which it resembles in the field. And certainly, aficionados say, don't confuse it with plain old sugar cane that yields molasses. Sweet sorghum (Sorghum bicolor (L.) Moench) is a thing unto itself – part tradition, part history, part agriculture– and entirely good eating.
"I can't say that sorghum is a major industry boom in Tennessee, but it's been grown here for a long time, kind of a family tradition," says Stanley Trout, marketing director for the Tennessee Department of Agriculture. "It's a secret treasure. People think they need molasses, but you can forget molasses when you get some really good sorghum syrup."
Nutritional Facts About Sorghum
That sweet-tasting syrup is apparently good for you, too. According to the National Sweet Sorghum Producers and Processors Association, one tablespoon of sorghum syrup supplies 200 mg of potassium, 6 percent of the daily value needed for the average adult.
It's also high in antioxidants, contains 300 milligrams of protein, 30 mg of calcium, 20 mg of magnesium and 11 mg of phosphorus – all in one tablespoon.
"It's really catching on in the Western states," says Morris Bitzer, executive secretary for the Kentucky-headquartered NSSPPA. "We're shipping like mad."
That's good news for Tennessee, which can lay claim to being one of the top two sorghum producers in the nation – second only to Kentucky.
A Sweet History
Sorghum is certainly not a new crop, however. A native of Africa, sorghum cane was introduced to the United States in the 1850s as an alternative to sugar cane, whose long growing season makes it unsuitable in the upper South and Midwest. Sorghum cane thrives in hot and dry conditions, and was a welcome way for farmers to obtain sweetener cheaply and locally.
By the late 19th century, according to the NSSPPA, the crop was being grown mostly in the South, dropping to only 2,400 acres nationally in 1975, though today it's back up to 25,000 to 30,000 acres nationally.
"We're pretty steady," says Steve Stoll, whose Stoll's Sorghum Mill produces 7,000-9,000 gallons of sorghum syrup annually from 55 acres of cane near Finger, Tennessee, south of Jackson. "We have good sales and we're holding our own."
The Difference Between Sorghum and Molasses
Though many people confuse molasses with sorghum, there's a world of difference, fans of the amber-colored syrup claim.
"Molasses is a byproduct of the sugar industry," explains Sherry Guenther of Muddy Pond Sorghum Mill in Monterey. "It's what's left after the sugar rises to the top of boiling sugar-cane juice. Sorghum has a different taste to it, though. You can't get dry sugar from sorghum, but what you get is a syrup that has a sweet taste with a little bit of bite to it."
Unlike cane sugar or molasses, sorghum is full of nutrients. It's also a versatile ingredient in many recipes, from bread and cakes to barbecue sauce, and is a flavorful complement to vegetables, such as green beans and corn. The NSSPPA even recommends it for stir-fry cooking.
Muddy Pond Sorghum in Monterey, TN
Guenther definitely speaks with the voice of experience. The sorghum syrup she, husband Mark and his family produce won the top national award from the NSSPPA in 2003, based on its clarity, smoothness and taste.
Muddy Pond's 40 acres of sorghum cane are planted, using a horse-drawn planter, around the first week in May – "if the ground is dry enough and it's warm enough," Guenther says. For a long while, the crop resembles corn. When the plants near maturity in late to mid-August, they bear seed-filled heads, which are lopped off and saved for seed for next year.
Sorghum cane is harvested during September and October. The Guenthers pull a press behind their tractor, so juice is extracted from freshly cut plants right in the field. The bright green juice then goes back to the mill, where it is kept, heated, in a holding tank. To avoid spoilage and produce the best syrup, it is cooked the next day, thickening into light amber syrup that is then bottled. Guenther says 10 gallons of raw sorghum juice will yield about 1 gallon of syrup.
Mayford Effler of Townsend, a self-professed lifelong sorghum fan who refers to sorghum syrup as simply "sorghums," claims he eats perhaps 2 gallons of the sweet stuff a year, mixing the hot syrup with butter and drizzling it on hot biscuits.
"They're good and good for you," he insists enthusiastically. "In fact, when I was little, they told me sorghums would make me pretty. Turned out it was the butter and biscuits, though."
Not everyone shares Effler's love of sorghum syrup. Steve Stoll says many younger visitors to his farm "don't take to sorghum as much as older folks do. Some even turn up their noses."
Still, the lure of this "secret treasure" is strong for many people, especially those who grew up with its distinctive taste and who cherish the rural traditions it recalls.
Mark Guenther says that sense of tradition is part of the reason he's a sorghum producer. It's gratifying, he says, that "a lot of the people who stop to see us making sorghum say it brings back memories of when their grandpa used to make it the same way."
The Guenther family helps preserve that tradition at their farm, where visitors can watch the entire sorghum-making process, taste syrup warm from the cooker and buy homemade breads and baked goods. They also demonstrate sorghum-making at Dollywood's October Harvest Celebration every year, as well as a number of other local festivals. They sell their products mainly to welcome centers and outlets in the Great Smoky Mountains.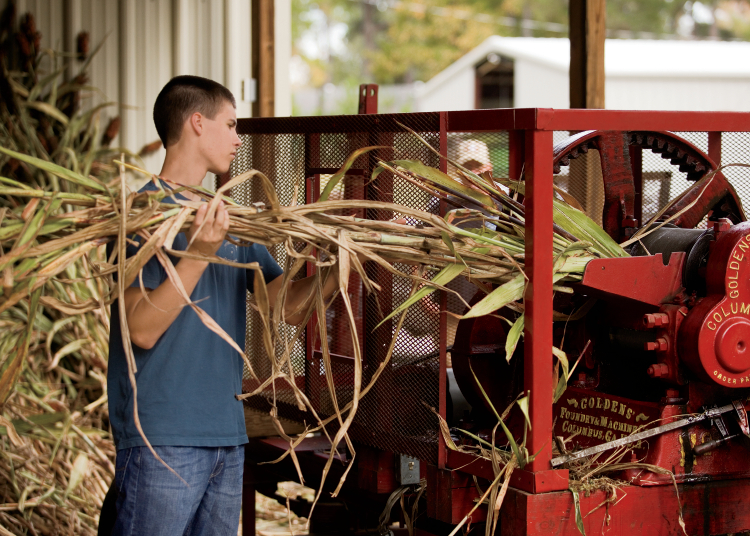 Stoll's Sorghum Mill in Finger, TN
At Stoll's Sorghum Mill, the emphasis is on wholesale production and sales.
"Ninety-five percent of our syrup goes to farm suppliers, wholesalers and co-ops in six different states," Stoll says. "You'll find us in a lot of tourist places like Apple Barn, and in grocery stores like Piggly Wiggly, Big Star and Sav-a-Lot. We do some retail at the house, and we invite people to drop in whenever they want to."
Both the Guenther and the Stoll families inherited their involvement in sorghum production from the generation before– and hope to see it live on into the future.
It's hard work, they agree, but well worth it. As Sherry Guenther says: "We like to say we're sweetening up the world."
SEE ALSO: What is Sorghum?