The Story of Castle Gwynn, Home to the Tennessee Renaissance Festival
|
Editor's note: This story was originally published in 2007. Castle Gwynn has since received its second turret, as well as nationwide recognition thanks to the castle's appearance in Taylor Swift's music video "Love Story."
France, Wales, England – certainly. Nestled high in the Alps overlooking the moors of Scotland – absolutely. But turrets in Tennessee?
Not likely, you say?
If that's your final answer, then you apparently have never driven the scenic stretch of State Route 840 near Arrington and Triune, where a white stone and brick structure rises through the trees on the west side of the road. It looks strikingly like, well … a castle.
And, in fact, it is. It's Castle Gwynn, a startling replica of a 12th-century Welsh border castle and the private home of Nashville-native Mike Freeman, a portrait photographer, and his wife, Jackie, a retired schoolteacher. It's also the location of the annual Tennessee Renaissance Festival each May.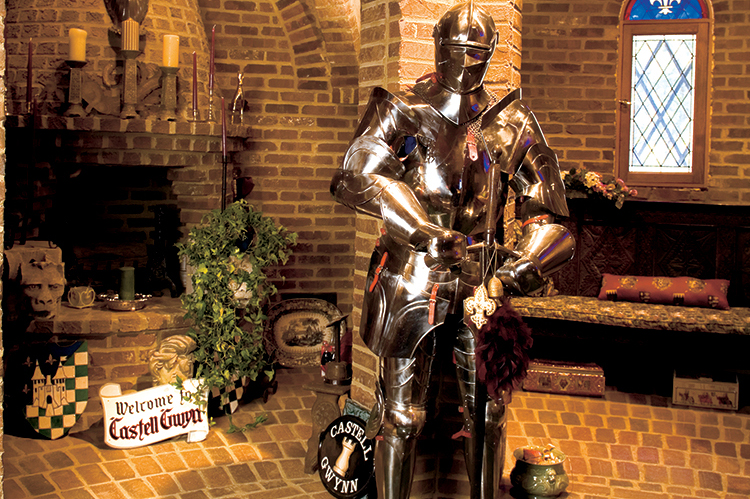 History of Castle Gwynn
A work in progress since 1970, Castle Gwynn began as a product of Mike Freeman's imagination in a high school architecture class. A teacher instructed students to sketch their dream house.
"I started drawing the plans for a medieval castle," recalls Freeman, now 55. "In 1980, we broke ground on it."
For Freeman, the question was never "if" he would build his castle – it was always "how."
"If you're willing to work hard, anything's possible," he says with the glint of experience in his eye. "People think just because I live in a castle, I'm rich. But for perspective, consider the fact that I work 12- to 18-hour days, and it has taken us 26 years to build the castle so far. I pay for it as I go, and when I run out of money, I stop working."
Following his high school graduation, Freeman spent 10 years establishing his photography career, doing research and looking for land on which to build his castle.
"After talking about it for 10 years, I either had to build the castle or become the biggest liar in Tennessee," Freeman says with a chuckle.
Freeman met a man named John Covington who became enchanted with his idea, and Covington made it possible for him to buy 40 acres of land near Arrington and Triune.
"He was kind of like the grand­father I never had," Freeman says.
When he was ready to start building, he called upon Kenneth Canaday, a master mason from Hickman County he'd made a deal with a decade earlier.
"I dated his daughter in high school and asked him then if he'd help me with the fancy work on my castle one day," Freeman says, grinning. "He said, 'Yes, if you stop dating my daughter.' So I did, and he did."
With the occasional help of Canaday's four sons, Freeman and Canaday spent two years of weekends molding 14,000 bricks into 60 arches in the castle kitchen. In return for their work, Freeman photographed all four of Canaday's sons' weddings.
"Mike does a lot of bartering and swapping trades," says Jackie Freeman. "Nobody's given him anything. He's worked and bartered around the clock for all of it."
With its brick arches, stained-glass windows and handmade tile floor depicting a coat of arms, the intricately detailed kitchen is the castle's crowning glory. But it's only the beginning.
SEE ALSO: Sutton Old Time Music Hour in Granville
Castle Gwynn boasts two seven-story towers connected by a brick cloister, or walkway, with Indiana limestone arches. A stone and brick double staircase, modeled after a staircase at the White House, descends from the front of the castle and has been the backdrop for several weddings, including the Freemans' own.
The couple resides in Castle Gwynn's north tower, and the south tower, still under construction, is used mainly for entertaining guests. Both towers are stucco white.
"Castles were often white, because there's no way an intruder can climb a white wall on the darkest night without being seen," Freeman says. "Gwynn is the Welsh word for 'white,' so Castle Gwynn means 'White Castle.' "
The south tower's first floor is a garage, above which is the great room – a two-story reception area with a balcony, domed ceiling, brick arches, chandelier and hooded fireplace.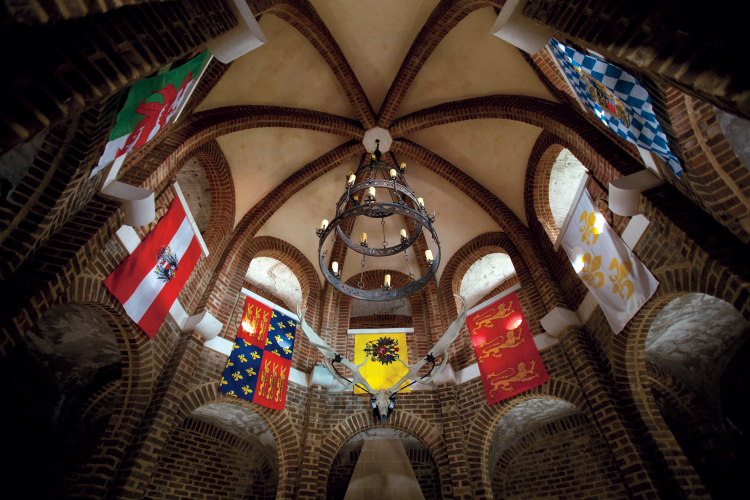 New Additions Planned
Plans for the south tower's upper floors include a honeymoon suite with a personal elevator and hot tub.
The aforementioned kitchen is on the north tower's ground floor. A small elevator hides behind an elegant wooden door, as do modern appliances like the washer and dryer. Electrical outlets are also hidden, as well as the 21st-century heating and cooling systems.
Take the elevator or winding stairs up from the kitchen, and you're in the living room, which features a brick fireplace, antique furniture, stained-glass lamps, a collection of 16th-century medieval swords and a 450-year-old original painting of Queen Elizabeth I.
Upper floors in the north tower include the master bedroom and bath, a den/game room, an armory where Freeman plans to display his seven suits of armor, and an exercise room with a hot tub and triangular windows. Each floor has a bathroom.
A 12-ton, 30-foot-diameter cone-shaped roof tops the north tower, while a similar one under construction rests on the ground below waiting to be installed atop the south tower.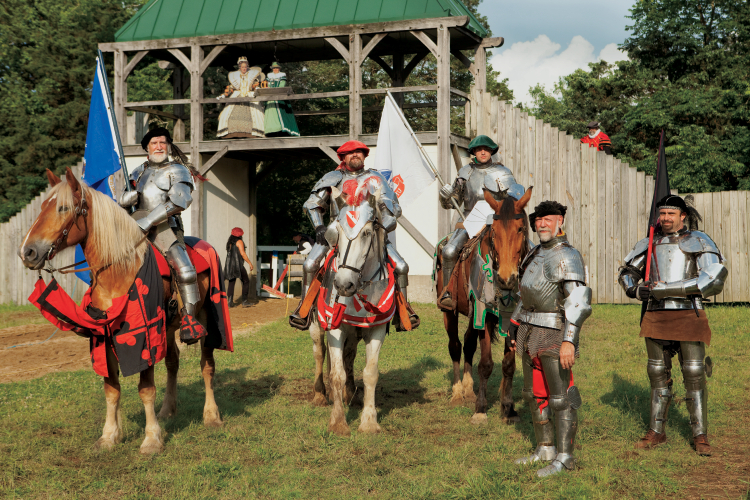 Tennessee Renaissance Festival
Every weekend in May and on Memorial Day, the Freemans open parts of their medieval home to the public during the Tennessee Renaissance Festival, which they started in 1986.
"People were very curious about the castle, so we thought if we did a festival once a year, we could share it with people," Freeman says.
During the festival, the castle grounds come alive with entertainers dressed in Renaissance clothing; artisans selling jewelry, costumes, artwork and accessories; food vendors selling everything from turkey legs to funnel cakes; jousting tournaments by knights on horse­back; games and man-powered rides; and tours of Castle Gwynn.
Though it took him 11 years to break even on the festival and required more work than most people would care to invest, Freeman insists both the castle and the festival have been well worth his efforts.
"I never gave up," he says. "And I've been fortunate to have some very talented people share in my dream."

Joust in Time
Go back in time to the days of juggling, human chess games, jousting, giant turkey legs and more at the annual Tennessee Renaissance Festival, held on Freeman's property. You can also tour Castle Gwynn during the event.
The 2017 dates are as follows: May 6, 7, 13, 14, 20, 21, 27, 28 plus Memorial Day, May 29
Hours: 10 a.m. – 6 p.m., rain or shine
Learn more at the Tennessee Renaissance Festival website. As always, please call ahead before traveling long distances.